Glasses & Frames for Kids in Los Angeles, CA
At A. B. See Optical, our team of experts are passionate about providing you with high-quality eyewear that not only enhances your vision, but also complements your unique style, as well. We offer an extensive selection of frames for kids and teens, as well as replacement designer frames for those looking to update their look.
Our Specials:
Children
One pair including frame & plastic lenses:
$78.00
Adult #1
2 plastic frames & 2 pairs of plastic lenses:
$59.00
Adult #2
2 metal frames & 2 pairs of plastic lenses:
$109.00
Glasses for Kids and Teens
At A. B. See Optical, we understand the importance of finding the perfect pair of eyeglasses for your child. That's why we offer a wide variety of glasses and frames for kids and teens that meet their unique needs. Our glasses not only provide clear vision, but also offer UV protection, impact resistance, and scratch resistance for maximum durability.
Our selection of kid's glasses includes a range of trendy frames that your child will love to wear. From fun colors to unique patterns, we have something for every style and personality. Our frames are also designed to fit comfortably and securely on your child's face, ensuring that they stay in place and provide optimal vision all day long.
We also offer a variety of teen eyeglasses that are both stylish and functional. With frames in different shapes, sizes, and materials, your teen can find the perfect pair that fits their personality and lifestyle. Whether they prefer a classic look or want to make a bold statement, our frames for teens have got them covered.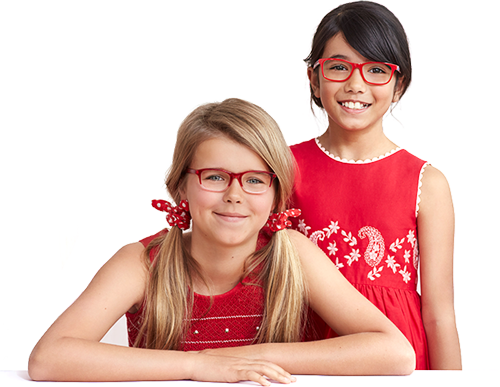 Replacement Designer Frames
If you're looking to update your look without having to buy a new pair of glasses, A. B. See Optical has got you covered. We offer a wide selection of replacement designer frames that allow you to keep your old lenses while giving your eyewear a fresh new look. Our frames are available in a variety of materials, including acetate, plastic, metal, and titanium, and come in a range of shapes and colors to fit your unique style.
Our designer frames are sourced from some of the most reputable brands in the industry, including Ray-Ban, Tom Ford, and Gucci. These frames are crafted from premium materials, ensuring that they are not only stylish but also durable and long-lasting. In addition, our frames are designed to fit comfortably on your face, with features such as adjustable nose pads and temple tips that provide a customized fit.
Glasses and Frames in Los Angeles, CA
At A. B. See Optical, we take pride in providing our customers with the highest quality of glasses and frames available. Our team of experts is here to help you find the perfect pair of eyeglasses that not only enhance your vision, but also complement your personal style.
We also offer a range of services, including eye exams, contact lens fittings, and vision screenings, to ensure that your eyes are healthy and that you're getting the most out of your eyewear. At A. B. See Optical, we are committed to helping you see clearly and look your best. So visit our website today to browse our selection of glasses and frames or schedule an appointment with one of our experts.